Transplanting Success
How Fresh Start Farms helps new Americans blossom by nurturing their farming roots.
---
This interview is part of the NH Food Alliance's and Ink + Light Creative's Field Photos Project, a photo-interview series telling the story of New Hampshire's vibrant and diverse food system. Explore more from the Field Photos Project here >>
Fresh Start Farms is a Manchester-based program of the Organization for Refugee and Immigrant Success (ORIS). Since 2008, Fresh Start Farms has assisted new Americans as they resettle in New Hampshire. For the past three years, Jameson Small has served as Fresh Start Farms' Program Director, helping to increase product quality and create new markets for the 23 farmers they support. Fresh Start Farms serves as an aggregate for ORIS farmers, buying their products and selling to the local community at affordable prices at farmers' markets, through their online ordering system, as well as through the NH Food Hub Network. ORIS owns and/or leases land in Concord, Dunbarton, and Boscawen that farmers grow on and ORIS's board is made up of new Americans, ensuring program operations are overseen by the farmers themselves.
I spoke with Jameson about his support role for new Americans who are in this resettlement process. He spoke about the past two years and how operations have drastically increased along with sales. He welcomes these growths but also discusses the growing pains of nonprofit work. Despite the challenges, Jameson celebrates Fresh Start Farms' success stories as an organization increasing opportunity and access for all.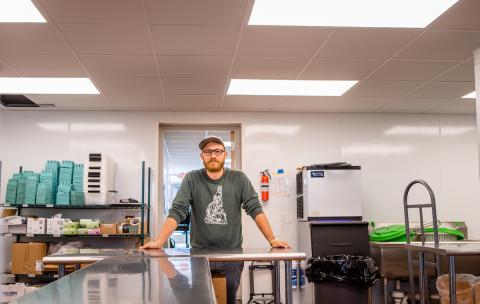 Daisy Young (DY): Where did the inspiration for Fresh Start Farms come from?
Jameson Small (JS): Back in 2008, ORIS started the New American Sustainable Farmer Training Program, which was geared toward new Americans who were farmers back home. About 90% of women who resettled here were stuck indoors because they didn't have the skills yet to get traditional jobs. Many of their husbands would work at factories, but the women would stay home to be with the kids. It got them isolated. They'd spend years at home without integrating into the community or getting to know anybody. There were layers of depression. Mukhtar Idhow, our director, started noticing this and saw other programs across the country that were using farming as a way to help new Americans get out of their houses, get active, and become part of the community.
DY: How did ORIS start to directly address this issue?
JS: ORIS got a little piece of land to lease and let farmers grow for subsistence. Farmers were focused on growing culturally important foods that they couldn't buy at any stores around here. They would bring seeds from back home and grow them just for their friends and family. As more people were moving here, they started seeing that there was an opportunity to sell these foods. They started small pop-up farm stands, mostly with ethnic foods, and that went on for a few years successfully.
Around the same time in 2010-2012, farmers were also noticing regular farmers' markets that were happening across the state and growing in popularity. So they wanted to take part in that, but they didn't know how to grow a lot of Western foods. All of the farmers who started with Fresh Start Farms had experience farming. At least in my time there has been no one who didn't have a background. What's different is the scale. There's a farmer in Concord who used to have ten acres back home and would mostly grow corn and beans, not with tractors, but by hand. Another difference is how they are scheduling. If you are in Western Africa, you can essentially plant any time of the year. You plant, you take it to market when it's ready, and you sell it. That's the norm for how you grow and sell food. Here with our climate, it's such a short season. 
ORIS started fundraising and writing grants to be able to provide training to farmers to teach them about the climate, how to use greenhouses, drip irrigation, and some of the tools that we use a lot here. When that started, the idea of Fresh Start Farms as a marketing brand came up. That's how it all started.
In order for you to go to a farmers market, you have to have insurance. ORIS got one insurance for all the farmers to be under and labeled it 'Fresh Start Farms.' That's when this collective brand was created and from there it has just grown. We've been able to act as an aggregate and purchase food from Fresh Start farmers to be able to sell in a Community Supported Agriculture (CSA) and wholesale to specific institutions. It gives an opportunity for the more newly settled folks who don't have cars yet or are taking taxis to get to the farm. Each farmer has their own independent business, no one is working for us, we are working for them. 
DY: And how has this role evolved? What does the program look like today?
JS: We bring a reefer [refrigerated] vehicle to the farm, purchase food from the Fresh Start Farmers, and then are able to move it into the market so that they are able to still make and save some money. A lot of farmers are buying their first vehicles and some are buying houses. Those that do get vehicles are able to start going to farmers' markets and sell their food in different direct consumer ways. For the most part, we are just a clearinghouse that aggregates these foods and then moves them. Since we are a nonprofit we do a lot of mission-driven sales. Our CSA is geared towards the typical CSA customers, but the mobile market is geared toward people that may not be able to afford the CSA or have trouble getting to farmers' markets. So we bring our mobile market into communities and do a pop-up market and sell all that food at cost. Each of our market channels has different pricing, but we do that based on our mission and the end-user.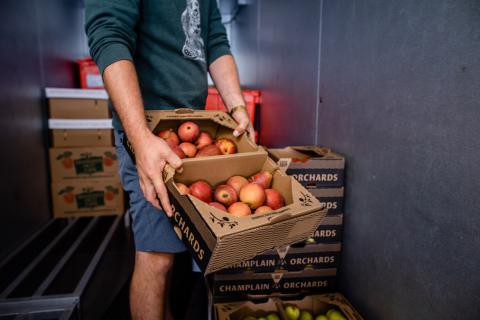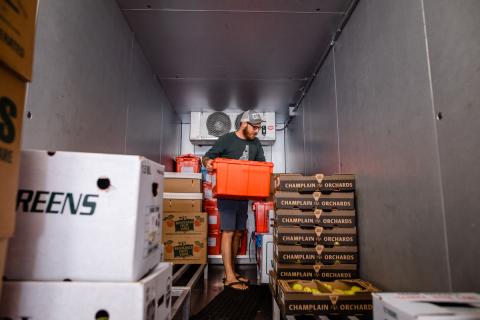 DY: How did the pandemic shift operations at Fresh Start Farms?
JS: Before the pandemic, we had our CSA that people picked up at farmers' markets. That worked for a few years. As we brought more farmers into the program, our model started to fall apart. When COVID hit, we had already started making the move to becoming an aggregate and shifting to online sales and home delivery.
COVID definitely made that even larger. We went from 60 CSA members a year to over 300 in just a few months. Prior to COVID, ORIS didn't have a refrigerator and we washed food in sinks in the middle of a field, so it was definitely "DIY" to the max. With COVID and home deliveries to people, we instantly had to increase our quality to be able to keep up with people's standards. It's different if you are going to the farm and picking up from the farmer—you can build a relationship with that person and be a little more understanding. Doing things digitally, we never even see our customers' faces, we just drop a box at their door. A challenge has been maintaining that relationship with customers.
Another challenge has been the pace of things. In twelve months, we got a building, gutted and rehabbed it, fundraised for it, operated it, hired staff for it—it was crazy. It just happened so quickly and there's so much growth and work to do. 
DY: Aside from the pandemic, what types of challenges have you faced as a small nonprofit?
JS: A big challenge is supply chain issues. We have the money to buy a new van for deliveries, but we have to have it custom built because Amazon bought all of the Dodge vans in the country. It takes six months just for us to order a van, then it will take two months for them to install the reefer [refrigerator] piece. So we are going to spend $70,000 dollars, and not be able to have that tool for seven months. These are real issues. Even the budget that we created for the Farm to School grant last year faces these issues; we wrote in some pieces of equipment costing us $180 dollars at that time. Now the same equipment is $280 dollars. You would think if you put in an application things wouldn't be that dramatic six months later, but they are. 
Trying to get staff has also been a challenge. As a nonprofit, we don't have tons of money. But we have increased our wages dramatically in order to attract and retain people. Ten years ago, people would join a job just based on the impact, for a lot of nonprofits that's what drives people into this sector. But if you can go deliver something on Amazon for $20-25 bucks an hour… people still have real bills. We've had to adjust things so that we can pay people and have a balance so that they can live a normal life too.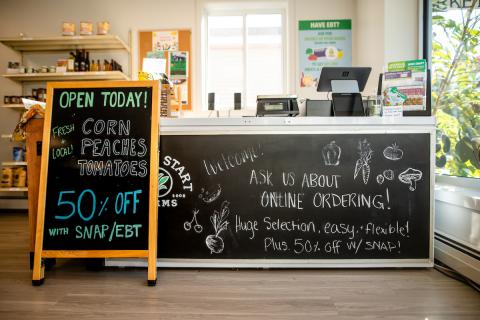 DY: Let's talk more about budgeting and grant money. As a nonprofit, have you run into any issues accessing funding?
JS: To be honest with you, we've been really fortunate funding-wise. Some of it is just timing. ORIS is the longest-running and largest ethnic-run organization in the state, so we are at the top of a lot of funders' lists because we are some of the only people doing the work we do in New Hampshire. We are wicked grateful for the amount of help the New Hampshire Charitable Foundation and the US Department of Agriculture has given us.
The challenge with funding is you have a strict period of time. If you go into these programs with new ideas but no plan of how to run them without these grant funds, then in three years you are going to have to shut these programs down. That's been the challenge; a lot of the grants require you to know your new idea, or what you're expanding on, so it forces organizations to scale and expand when maybe they just want to level out and operate.
One area for improvement is with the institutions that are driving regulation right now. If you want to sell to a distributor, like in a big school district, you probably will have to have Good Agricultural Practices (GAP) certification. In something like GAP certification for ORIS, because it's so tied to record-keeping and documentation and we are working with folks that can't read or write, it requires ORIS to do all that documentation. We are trying to write grants so we have the staff to do record-keeping for 25 people. But once again, once that grant runs out, how does ORIS sustain that role? More importantly, if we are just doing all that work for the farmers, we're not teaching them to do it on their own. If we want to scale operations and go more independent, they are going to have to know all those scales.
DY: You mentioned selling to school districts, which reminds me of Fresh Start Farms' Farm to School program. Tell me about the program and how it started.
JS: In the past, we tried to sell to schools, but we were always having issues with seasonality. When our farmers were having their largest harvests in August and September, the schools were just coming on board. It was hard to get into those first menus for the first few months. By the time the schools were ready to potentially start buying from us in November/December, we didn't have any more of the foods that they wanted. Or we did, but they were too expensive compared to the commodity foods that they are buying, like carrots.
We wanted to be able to build a product that solved problems for the schools. Because one thing we learned from schools, besides seasonality issues and the pricing, was labor. If you bring a school carrots, they are used to them being peeled and diced, because they have about one and a half full-time people per school for food. If we couldn't really compete on the cost of the food because of ingredients, then maybe we could add value to a product through labor that would be enticing. This is where pizza came up.
DY: Pizza! Tell me more.
JS: We've always had an issue of way too many tomatoes. We worked with Genuine Local in 2019 to have them make us a pizza sauce as a pilot. We bought a bunch of the tomatoes, froze them, and made 30 0r 40 gallons of pizza sauce that we could sell online. The farmers were really into it and we were able to move most of the tomatoes. Once we saw that that was successful, we decided to form our farm to school project around this tomato problem.
Pizza is popular, it's profitable, and it's cheap to make. And it's one product that has so many different food players in it. You have processors, tomato farmers, basil farmers, grain growers, dairy farmers—you have this whole pie worth of people to contribute to this pizza, so it was a nice story to tell too. We wrote up a USDA Farm to School grant proposal to go into schools to tie agricultural education and local procurement together. We plan to have farmers come into the classroom and explain their part in the food system and then have kids help start growing the ingredients for the pizzas. 
Genuine Local is going to make a pizza sauce, a company in Manchester is going to make the dough, and then build the pizzas here at the [Fresh Start Food] Hub. We have contracts with six schools to serve these pizzas once a month throughout the school year. We are filming the whole thing with a plan to have a 10-15 minute film that we can show at subsequent schools that we go into to hopefully get them on board.
DY: What is the value of including young people in our food systems?
JS: I didn't really understand anything about agriculture or food systems work until college. We are working with second graders up to fifth graders. The earlier the better. I think it's important that when we talk about food systems work, we are not just talking about the farmer. If everyone understood all the people, opportunities, and jobs that are involved to make the system work, they would value building a strong food system and we would have enough hands on deck to make everything happen.
With school lunches being taxpayer-funded, we are the ones paying for that food so we have an opportunity to make it good. For a lot of kids, this could be their only meal that day. I heard we are spending half a million dollars a day to feed our kids. How much of that is going towards local food? If that were to be shifted to local food, what could that investment mean for the state? It's a misallocation of spending. Our way to be able to make that happen is by getting the kids on board. They're going to be the ones who are getting superintendents and the school board to listen. Coming from my end, it's a lift to be able to get adults on board. But if the kids are the ones who are asking or advocating for it, it's the easiest thing ever. Part of it is I want to help kids, but I also want to sell local food. That's what got us to this point, trying to find the best way to be able to create a market opportunity, while also making the most positive impact. That's the essence of nonprofit food work.
DY: It is clear there are many elements to Fresh Start Farms. How do you see the organization evolving in the next ten years?
JS: I have ideas of what it could look like, but really the farmers and the board are going to be the ones that dictate that. What I've learned is that they're the ones that are going to set the pace and plan. I see ORIS as an organization digging way deeper into resettlement services and playing more of a regional role beyond New Hampshire. For Fresh Start Farms, I think that will always be a mostly New Hampshire geared program. I do see us playing a larger role with other partners or creating income opportunities for partners beyond new Americans. 
This past year, we were able to offer a wide range of different products beyond what's just been grown by Fresh Start farmers because of the online marketplace. We created or sold about $150,000 dollars worth of products that were from other producers in the state or in the region. We are providing market opportunities for them and I see that growing in the future. Ten years from now, I think that we'll still be doing a lot of what we are doing now, but it really depends on what the needs are at those times.
DY: It's impressive that you sold $150,000 dollars worth of products from other local producers. What enabled this level of collaboration and how has it shaped Fresh Start Farms?
JS: Seeing the NH Food Hub Network come to fruition is one of the most exciting things about my work. That's the essence of collaboration. We are not all strong in everything; every entity, every business, even outside of the Food Hub Network, has a different strength. Usually, in the business sense, everyone is trying to beat everyone else and push everyone out.
What the NH Food Hub Network has proven to me is being more unified and looking at each other as partners rather than competition, you hold each other more accountable. You'll naturally do better work. And you are able to solve problems as a unit rather than looking at every problem as this big burden with no resources. If I have any questions about anything that has to do with food systems, I have a plethora of people that I can get assistance from and that's mutual. Because of those food hubs, it makes our purchasing a much larger reach. When we do an order with Three Rivers Alliance, I am able to buy from a bunch of different farmers which makes it really easy. Without those tools, there is no way we would have the resources to be able to do that type of ordering. Fresh Start Farms has never done any advertising. It's all people telling each other and that's really what keeps us going and drives our growth. 
DY: There are many layers to all the work you do. What motivates you to persevere through all of the challenges you face in this work?
JS: There is a farmer couple who are one of the only ones that do great record keeping with their finances, and I'm really impressed by that. Last year, they made almost $40,000 dollars with their farm, while also working full-time jobs. If they were not working, they were at the farm. Also knowing that if we didn't have our program running that would not have happened. I think that's the thing that keeps me going. There are 25 people we are working with that are working towards that goal and some are getting really close. But we are barely scraping the surface. ORIS doesn't have one Latino farmer; it's mostly people from Africa. So we haven't even diversified to more people. There's so much more work to do. Knowing that there are success stories makes me show up.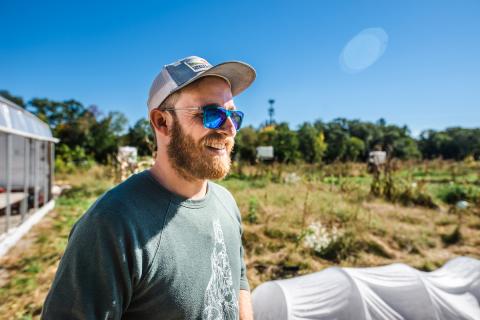 To learn where to buy Fresh Start Farm produce, check out the "buy our produce" tab on their website. Learn more about different programs of the Organization for Immigrant and Refugee Success here. To increase food access, Fresh Start Farms is piloting their Healthy Corners program, stocking fruits and vegetables, local when possible, on credit at seven corner stores across Manchester. Stay in touch with Fresh Start Farms on Facebook and Instagram to hear updates on that program and other announcements.
This interview has been edited for clarity and length.
Author(s)