Live Free & Eat Local for Thanksgiving
Browse local turkey farms, order a Thanksgiving dinner, or find fresh, local fruit and vegetables for sides and more!
---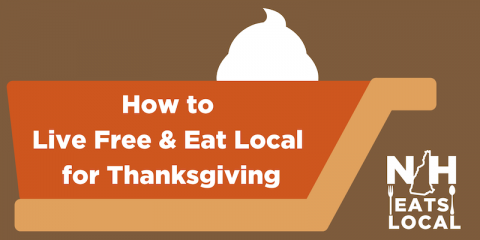 Arguably one of the biggest food holidays of the year, Thanksgiving is the perfect time to source local fruit, vegetables, and of course, turkeys, from farm and food producers across New Hampshire. Or, if you're not into whipping up a feast yourself, find a local restaurant or market near you offering pre-made Thanksgiving meals to-go! Browse a variety of resources below to source local food, order a turkey, or find a Thanksgiving meal, pie, or other locally made goods to pre-order, and more!
NH DEPARTMENT OF AGRICULTURE, MARKETS & FOOD
Turkeys
Find below New Hampshire turkey producers aggregated by the NH Department of Agriculture, Markets and Food. These farmers report the following prices being charged for fresh eviscerated turkeys picked up at the farm: $3.50-$5.99/lb. Call first to check availability.
Beans & Greens Farm
GMO & hormone/antibiotic free, pasture-raised
245 Intervale Rd., Gilford
BeansandGreensFarm@gmail.com; 603-293-2853
Bokaja Enterprises
All Natural
1395 Battle St., Webster
648-2520/470-6276; kdrown@tds.net
CJEJ Farm
Raised on farm produced grain
Rt. 3, Columbia
603-922-3500; cjejfarm@gmail.com
Harris Farm
farm fresh
Bradford
603-938-2923; harrisfarm57@aol.com
Hermit Brook Farm
grass and grain fed
68 Plummer Rd., Sanbornton
603-286-4121
Hurd Farm LLC
11 Old Stage Rd, Hampton
603-944-6869; HurdFarmLLC@yahoo.com
Meadowsend Farm & Sawmill
all-natural
152 Old Holmes Rd., Hopkinton
603-496-9759
Other items
Browse the NH Department of Agriculture, Markets and Food's farm stand and farmers' market guides to find local fruits and vegetables for Thanksgiving!
New Hampshire Farm Stand Directory
2021 New Hampshire Farmers' Markets
2020-2021 New Hampshire Winter Farmers' Markets
Find local food with UNH Extensions NH Farm Products Map HERE
MONADNOCK FOOD CO-OP
Turkeys
Fresh Thanksgiving Turkeys from Stonewood Farm ($3.79/lb, 12-30 lbs) and Koch's, both Natural ($2.99/lb, 10-26 lbs) and Organic ($4.59/lb, 8-26 lbs) will be available to pick up Monday, 11/22 through Wednesday 11/24 from 8AM-7PM.
Other items
Pies, Thanksgiving plates, and other items will still be available for pre-order HERE
CO-OP FOOD STORES
Pre-order a Thanksgiving To-Go meal from the chefs at the Co-op Food Stores HERE
They are also offering pre-orders for fresh, whole Vermont turkeys.
CORNUCOPIA PROJECT
Order a Thanksgiving Bounty Box, filled with vegetables ready for the Thanksgiving table HERE
LITTLETON FOOD CO-OP
Turkeys
Pre-order a fresh or frozen Thanksgiving turkey by calling 603-444-2800, or stop by the Meat Department at the co-op, by November 19. They are also offering locally-raised Stonewood Farm turkeys, please order by November 10. More information here
Thanksgiving Dinners
Order a Thanksgiving dinner for one or two people by November 20, online or in person at the co-op's deli counter. More information here
SHERMAN FARM
Turkeys
Reserve your Thanksgiving turkey from Misty Knolls Farm ($4.49/lb) HERE
Pick ups will be Tuesday, Nov 23 or Wednesday, Nov 24 from 9am-5pm
MILES SMITH FARM
TURKEYS
Reserve your Thanksgiving turkey from Misty Knolls Farm ($5.99/lb) HERE
THREE RIVER FARMERS ALLIANCE
TURKEYS
Pre-order a turkey through Three River Farmers Alliance from Lilac Hedge farm  ($7.14p/lb-$10.39p/lb). LEARN MORE HERE
OTHER ITEMS
Through Three River's Veggie-Go program,  pre-order a vegetable box, pie kit, or charcuterie box. LEARN MORE HERE
LONGVIEW FARM
Source local vegetables from their pop-up farm stand November 12-13, 10am-4pm. LEARN MORE
WALPOLE VALLEY FARMS
Source farm-raised meat, including turkeys, and other farm products, online or in-store. LEARN MORE