What We're Reading, Watching, and Doing: June 2021
Explore events, news, and resources from across the New Hampshire food system
---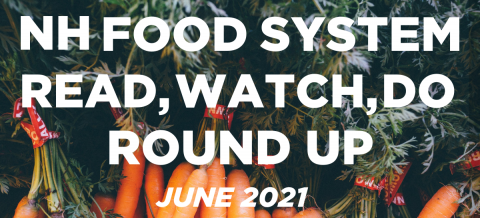 Jammin' into June! Read on for our round up of local events, news, and other nifty resources from across our food system and beyond. Don't see your event or resource listed below? Email us to have it added!
Want our round-up delivered to your inbox each month? Sign up to receive our newsletter and more HERE!

EVENTS
JUNE 2-JUNE 29
New Hampshire Businesses for Social Responsibility's and Diversity Workforce Coalition's NH Workplace Racial Equity Learning Challenge REGISTER HERE
JUNE 5, 12-5PM
A Taste of Keene Food Festival LEARN MORE AND GET INVOLVED
JUNE 8-9
NH Gives's 24 hours of giving fundraiser for local nonprofits LEARN MORE & DONATE
JUNE 8, 12:30-2PM
Food Waste Reduction and the Pacific Coast Collaborative webinar REGISTER HERE
JUNE 8, 7PM
Claremont Conservation Commission's Pollinators and Climate Change Program REGISTER HERE
JUNE 8-AUGUST 31, 5-8PM
Orchard Hill Breadworks's Pizza Night 2021 to benefit various organizations around NH LEARN MORE
JUNE 9, 2:30PM
USDA's Regional Food System Partnerships Grant Program webinar REGISTER HERE
JUNE 10, 10AM-2PM
"Farm to Food Opportunity: Growing Community Value Through Food Hub Operations" workshop hosted by Alabama Cooperative Extension REGISTER HERE
JUNE 10, 5:30-6:30PM
NH Food Bank's Cooking Matter New Hampshire team's Cooking with the Seasons- June workshop REGISTER HERE
JUNE 12, 1-3PM
SELT's Farm Tour featuring Clyde Farm LEARN MORE
JUNE 14, 9:30-11:30AM
UNH Extension's S.A.F.E. Food Handling Workshop REGISTER HERE
JUNE 14, 12-1PM
The "Understanding Local Zoning, RTF, and Farm Market GAAMPS" is a webinar from Michigan State University Extension's four-part webinar series "Cultivating Local Farm Economies: Planning, Zoning and Emerging Issues in Agritourism" REGISTER HERE
JUNE 17-19
Black Heritage Trail of New Hampshire's 2021 Juneteenth Celebration "Found Lineage: Celebrating African American Roots & Branches" REGISTER HERE
JUNE 18
Monadnock Food Co-op's Grill Fest Flash Sale LEARN MORE
JUNE 21, 4:30-5:30PM
Monadnock Food Co-op's Kitchen 2.0: A Virtual Cooking Series for Kids REGISTER HERE
JUNE 27, 3-4PM
Monadnock Food Co-op's Healthy Homemade Snacks workshop REGISTER HERE
ALL MONTH LONG
UNH Extension's Agriculture & Horticulture events and workshops  Learn more and register
UNH Extension's Home, Yard, & Garden events and workshops Learn more and register
SAVE THE DATE
AUG 1-31
2021 NH Eats Local Month LEARN MORE
AUG 15, 9-11AM
SELT's Farm Tour featuring Heron Pond Farm LEARN MORE

GET INVOLVED
IMPORTANT ANNOUNCEMENT!!  The New Hampshire Department of Health & Human Services has an update about Pandemic EBT (P-EBT) benefits. If your student is enrolled in the NSLP, you are eligible for P-EBT. This program provides families additional nutritional benefits to offset the cost of meals students ate at home during the COVID-19 pandemic that they would normally have eaten at school. LEARN MORE HERE
2021 NH EATS LOCAL MONTH CALL FOR PARTNERS! NH Eats Local Month is a month-long collaborative marketing and promotional campaign that brings Granite Staters together by harnessing the power of local food. We are seeking partners for the 2021 NH Eats Local Month celebration! SIGN UP HERE
Growing an Agricultural Commission Network Cafe recording and summary via NH Food Alliance's 2021 Network Cafe Series READ MORE AND WATCH HERE
Apply today for Food Solutions New England's Network Leadership Institute an immersive, experiential program designed to maximize learning and growth, reflection and connection, and inspiration and renewal. Applications are due June 15! LEARN MORE & APPLY
NH Harvest of the Month for June is Herbs! Pick some up and tag us @nheatslocal to share how you're enjoying the harvest. Find places to shop local through UNH Extension's Farm Product map or any of the NH Department of Agriculture, Markets, and Food's CSA, Farm stands and Farmers' Market directories. Learn more and get recipes here
NH Harvest of the Month BONUS— June is Dairy Month! Learn more about sourcing and cooking with local dairy, as well as where to find products from NH's hardworking dairy farmers. And don't miss out on local and regional dairy fun from Granite State Dairy Promotion and New England Dairy. Learn more and get recipes here
FOR MORE ON FINDING LOCAL FOOD CLICK HERE
VOLUNTEER 
Seacoast Eat Local is looking for volunteers for their Mobile Market program. LEARN MORE & SIGN UP
Taproot is looking for volunteers for their Plant-a-Row, Gleaning, and Lancaster Community Garden programs. Learn more & Sign up
Kearsarge Food Hub is accepting volunteers on a rolling basis for their various programs. Learn more & Sign up
READ THIS, WATCH THAT
Listen in to
WNTK news talk radio at 9:15AM on June 10 and 24 to hear UNH Experiment Station researchers take center stage
as part of the New Hampshire Department of Agriculture, Markets & Food's spotlight series on Granite State agriculture.
LEARN MORE
Kearsarge Food Hub recently announced in a very fun video that they are
opening Sweet Beet Café
later this year.
READ MORE & WATCH
Learn about marketing strategies for your farm or farm business with
"Farm Branding: Selling Your Products Through Story"
by Daniel Prial of NCAT's ATTRA program.
READ MORE
Catch up with
NOFA-NH's Craft of Farming 2020 with recordings
from last year's programming. And stay tuned for announcements about the 2021 program!
Watch here
The
gardening tips your need for June
from UNH Extension's Granite State Gardening. 
Read more
Foraging and cooking with NH seaweed?! Yes please! Catch up on
New Hampshire Sea Grant's Virtual Seaweed Mania 2021
programming.
WATCH HERE
Did you miss it?! The Vermont Healthy Soils Coalition, partnered with Littleton Co-op and the Cooperative Education Fund hosted a
six-part webinar series about building healthy soils and resilient communities
in Vermont and New Hampshire. Catch up on the program recordings!
Watch here
"Finding Capital: Financing Options for Meat Processors"
via Niche Meat Processor Assistance Network
READ MORE