We are a network of people, businesses, organizations, and communities working together to build a food system that works for all in New Hampshire. We connect and collaborate across sectors and geographic regions to increase our impact. Learn more about each part of our network below.
Our Network Partners ARE the NH Food Alliance
Our Network Partners are the people, businesses, organizations, and communities working together to form strong connections and collaborate to grow the NH food system. To the right are just some of our current Network Partners. Interested in becoming a Network Partner? Head to the Get Involved page to learn more.
Coming Soon! Our Interactive Network Partner Map. Want to be on the map?  CLick here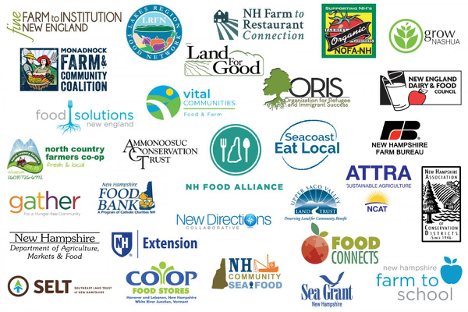 Network Leadership
A team of leaders from regional food initiatives and key statewide organizations who provide overall strategic guidance for the Alliance
A team of NH Food Alliance staff who facilitate network operations, communication, connections, and learning
Action Teams
Six teams of network partners who collaborate and act on specific initiatives to further the collective goals of the Alliance
Regional Partners
In the same way that we work across the sectors of the food system, the NH Food Alliance also looks beyond our state borders to strengthen our connections across the Northeast, creating a more resilient regional food system. We work closely with Food Solutions New England (FSNE) and are part of the New England Food System Planners Partnership. Both efforts bring together partners across the New England States. Learn more about our regional network partners below!