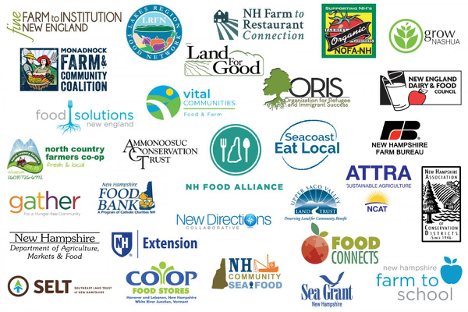 Coming Soon: Network Partner Map.
Make sure you're on the map!
Network Leadership Team
The Network Leadership Team is the heart of the Food Alliance. Dedicated leaders from regional food initiatives and key statewide organizations work with NH Food Alliance staff and the broader network to provide overall strategic guidance for the Alliance.
New Hampshire Community Loan Fund

UNH Extension in Nutrition and Healthy Living

NH Gleans & Cornucopia Project

NH Farm to School program

Hanover Co-op Food Stores
Backbone Team
Our small but mighty Backbone Team coordinates daily network operations, including facilitating communication, connection, and learning across the network to advance our shared goals. The NH Food Alliance and backbone staff are part of the UNH Sustainability Institute
Regional Partners
In the same way that we work across the sectors of the food system, we also look beyond our state borders to strengthen our connections across the Northeast, creating a more resilient regional food system. We work closely with Food Solutions New England (FSNE), and are part of the New England Food System Planners Partnership. Both efforts bring together partners across the New England States.